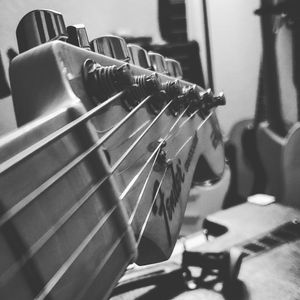 Bio
Hailing from the small town of Erie, Colorado Bryce Evans is a blues-rock legend in the making.  Bryce Has been playing guitar for 20 years in genres such as blues, rock, and alternative rock Locked away in the Studio since the Start of Covid-19 Bryce is starting to take names and is back out and gigging again!. "It's so nice to be playing shows again now that the pandemic has calmed down." 
In 2021 Bryce was endorsed by the KononyKheen guitar Company out of Russia. "You know I got the endorsement and I thought, "Cool, I'm making it somewhere now." then a few short months later the whole caveman thing happened." 
Later on that same year Bryce got to work with one of his all-time favorite producers, Kevin Shirley. "Working with Kevin was something I NEVER imagined would happen in my lifetime. Kev was nice enough to mix a song for me. I still haven't released that one yet. It will come out at the right time. This coming just after the endorsement with KononyKheen things started too look up!"
 Hot off the Release of his latest single, "Rail Line Vudu" Bryce is set to release more music in the upcoming year of 2023. Rail Line Vudu is available on most major streaming platforms. You can also get a free download by joining the mailing list! Living life on the side of determination and perseverance Bryce is taking no chances. "I'm out to get this music career and nothing will stop me."
Bryce was featured on Denver Open Media's "Kinda Vague Radio Show" in October of 2022. Airing on 92.9FM or 89.3HDR Denver.
Bryce's band Bryce Evans and The Black Cats received a review from Michael Emanuele of photography company Back Stage Flash. Michael has photographed bands such as The Rolling Stones, Samantha Fish, Big Head Todd and The Monsters and many others. He said, "This hard hitting blues rock power trio are a Tour De Force of raw rock and roll power. Evans has mad guitar skills with a great feel for the groove, his expressive distinct playing style captivates your senses. He has a powerful clear voice that is built for the hard rocking style of music they play. With twenty years of playing many styles of music Evans is the complete rock and roll frontman."
 Be sure to watch Bryce's social media accounts for updates on shows, release dates, and new music. Sign up for the mailing list for exclusive content not available anywhere else.